MFD-2068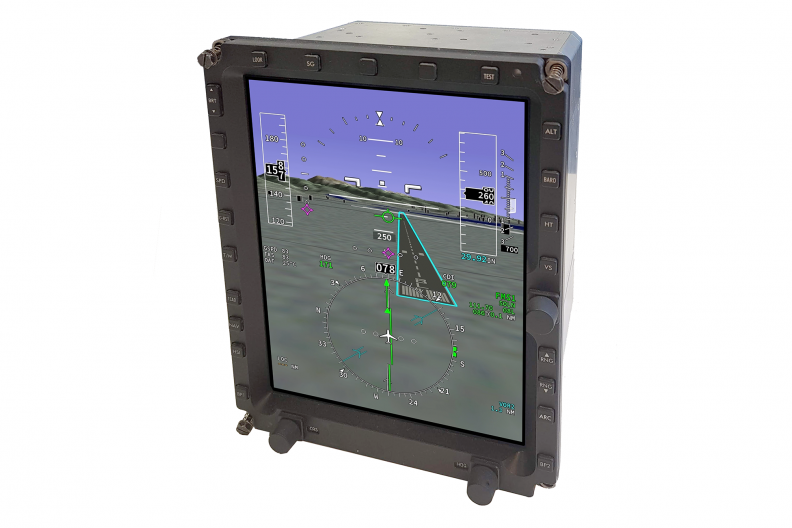 MFD-2068  Smart Multi Function Display
Powerful processing and graphics module with substantial growth capability
ScioTeq's MOSArt® middleware platform for hosting multiple software applications at different DAL levels (A to E)
Very wide viewing angles – ideal for cross-cockpit viewability
Brightness up to 200fL, making it suitable for installation in helicopters and open cockpit aircraft
NVIS Class B compatibility
Guaranteed brightness and color range over the operating temperature of the display and over its lifetime
Large array of Input and Output interfaces
Product description
Using a powerful processing platform the MFD-2068 is an open system very well suited for hosting today's demanding applications.
This ARINC 653-based display platform is based on VxWorks653 Real Time Operating System (RTOS) and ScioTeq's MOSArt® (Modular Open System Architecture) middleware.
Modular by design, the MFD-2068 allows customers to simultaneously host combinations of software applications that can be customer proprietary, ScioTeq proprietary, such as Primary Flight Display (PFD), Navigation Display (ND), etc., and from 3rd parties. Importantly, these hosted applications can be individually designed to varying Design Assurance Levels (DAL), up to and including DAL A, reducing development and integration costs.
Optically, ScioTeq's proprietary Active Matrix Liquid Crystal Display and LED backlight technology delivers a visual performance second to none: high contrast ratio and superior color stability, very wide viewing angles and superior brightness in Day, Night and NVIS modes.
And there is even more: the optical quality is guaranteed over the complete temperature range and life-time of the display, thanks to ScioTeq's proprietary control mechanisms.
Downloads
MFD-2068 Smart Multi Function Display
For more detailed information, please request via 'more info' above
Product specifications
| Processing |   |
| --- | --- |
| Computing & Graphic module | PowerPC based CPU, OpenGL ES SC capable GPU |
| RTOS | ARINC-653 WindRiver Vxworks RTOS |
| ScioTeq MOSArt® open platform | Allows development and hosting of customer supplied, 3rd party or ScioTeq applications. Can host multiple applications at different DAL levels simultaneously. |
Electro-optical

 

Panel type

Active matrix LCD (normally black)

Panel active area

10.4" diagonal (6" x 8")

Panel resolution

1024 x 768

Viewing angle

Can be tailored to program requirements, such as the addition of specific collimation to reduce canopy reflections, etc.

Backlight

LED backlight

Luminance

0.1 up to 200fL (non-NVIS mode)

0.03 up to 2fL (NVIS mode)

Luminance and color stabilized over the life time and the complete temperature range of the display

Sunlight readability

Contrast ratio >14:1 @ 10,000 fC

NVG compatibility

MIL-STD-3009 Type I/II, NVIS Class B

Heater

Heater for display startup at extremely cold temperatures
Interfaces

 

Video inputs / Outputs (1)

Inputs: 1 x DVI-D, 1x PAL/NTSC Outputs: 1x DVI-D (screen copy)

Control Interfaces (1)

24 Arinc429 input channels, 6 Arinc429 output channels

2 Arinc708 input channels for WX radar or TAWS

17 Open/GND general purpose discrete inputs.

3 dedicated discrete input ('Power supply enable', 'Maintenance mode enable', 'NVIS')

6 Open/GND general purpose discrete outputs.

1 'Fail' discrete output

1 Ethernet line 10/100Mbit, 2 EIA-485, 2 EIA-422, 1 RS-232 (maintenance line)

Some combinations of the above I/O may be restricted.

Contact ScioTeq for details or other custom options.

Controls

 

Brightness control

ALS sensors, bezel control, or remote

Bezel controls  (1)

Available with custom bezels
| General specifications |   |
| --- | --- |
| Power supply | 28VDC, MIL-STD-704A |
| Power consumption | <120W @ 200fL (20°C ambient) |
| Weight | 7 kg / 15.5 lbs |
| Dimensions (WxHxD) | 202.1mm (Width) x 259.2mm (Height) x 176.5 mm (Depth incl. connector flange) |
| Certification | ETSO-C113 |
| Software | developed to RTCA/DO-178B DAL A, capable of hosting applications up to DAL A |
| Hardware | developed to RTCA/DO-254 DAL A, capable of hosting applications up to DAL A |
| Environmental conditions |   |
| --- | --- |
| Compliance | DO-160G; (MIL-STD-810G & MIL-STD-461E optional) |
| High temperature | +55C operational / +70C short-time / +85C ground survival |
| Low temperature | -40C operational / -55C ground survival |
| Altitude | 35,000 ft |
(1) Please contact ScioTeq for other possible options
Can't find what you are looking for?
For more information or alternative solutions, please click 'contact us' below.