GVD-126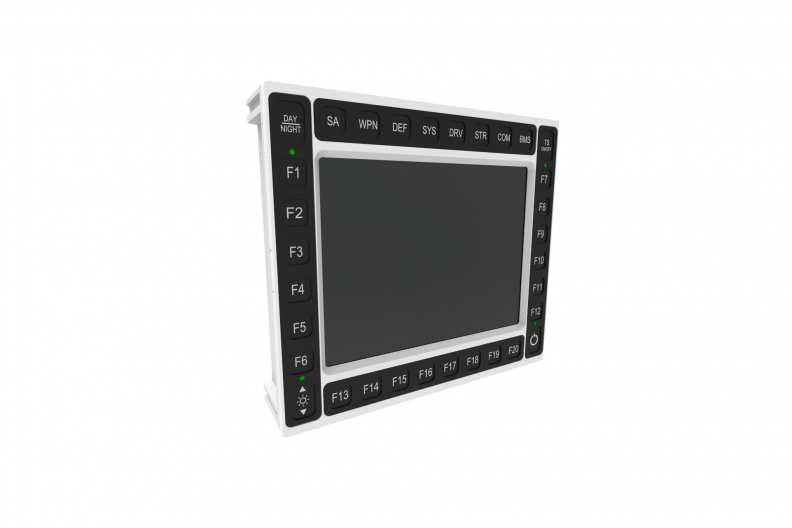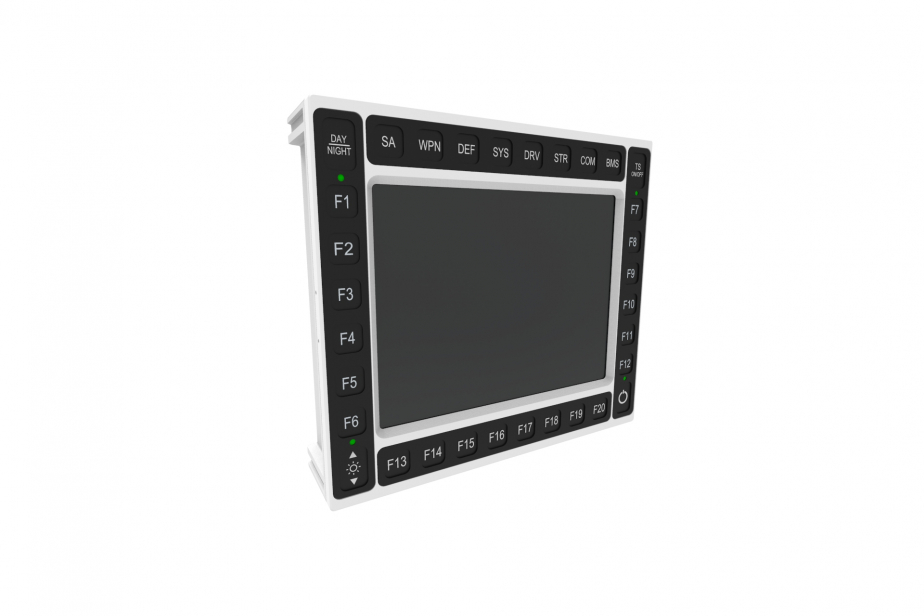 The GVD-126 is a 10.4" XGA extreme display
Low weight yet extremely rugged design
Mission-critical operations for vehicle applications
Product description
The GVD-126 GVA video display combines a rugged 10-inch touchscreen with real-time video imaging to provide a high performance visualization display in a compact footprint. The
GVD-126 display is compliant with the Generic Vehicular Architecture (GVA) and optimized for SWaP-C and modular open architecture, making this display ideal for vehicle-mounted C4ISR applications.
The GVD-126 display delivers the latest proven technologies, such as a rugged analog-resistive, low-reflection touchscreen, and real-time video stream decoding for tactical network architectures. These features are packaged to perform while operating in harsh environments.
The GVD-126 unit connects to a variety of network stream, analog video, and data sources to deliver enhanced situational awareness. For a smart-display configuration with an open-architecture CPU, ScioTeq also offers the SmartView SV-126 display.
The SV-126 smart display includes expansion slots based on open industry standards. This modularity allows customized IO configurations and dedicated hardware controllers.
Downloads
GVD-126 leaflet
For more detailed information, please request via 'more info' above
Product specifications
Electro-optical
 
Panel size
10.4" diagonal, 4:3 Aspect ratio
Resolution
1024 x 768 (XGA)
Color depth

6 bits/color
8 bits/color with patented dithering algorithm

Contrast ratio
900:1 (dark environment)
Dimming ratio
> 200:1 typical
Brightness
Day mode: 686 cd/m² / 200 fL min.
Night mode: 3.43 cd/m² / 1.0 fL max., dimmable to black
Interfaces
 
Signal Inputs
1xDVI-D Single Link, 1x Analog RGB (3,4 or 5 wires)
Max Resolution 1920 x 1200 (WUXGA) @ 60 Hz
3x Analog video (CVBS) inputs and 3x loop through outputs, MIL connector
1x CAN 2.0B (Accessible for project specific, please contact ScioTeq)
General Purposes Input Output
Command and Control
USB, RS232/422 for touch screen, function keys, and remote control
1x 10/100 Ethernet maintenance port for configuration management and remote control
Connectors
MIL-DTL-38999/3
Environmental conditions
 
Vibration

Random vibration (tracked-vehicle profile) - MIL-STD-810G

Shock
40 g, 23 ms (6 shocks/axis)
Operational temperature
-46° to +65° C (+71° C with limitations)
Storage temperature
-51° to +71° C
Humidity
95 percent, 60° C
Altitude
40,000 feet operating, 50,000 feet non-operating
Salt fog
48 hours, 5-percent concentration
Sand and dust
blowing sand/dust
EMI / EMC
MIL-STD-461F
Ground army
Ingress protection
1 meter immersion for 30 minutes
Inputs/outputs
 
Standard inputs/outputs

Def Stan 23-09 compliant connectors
1 x VIVOE Gigabit Ethernet port
1 x DVI-D 1.0 video port
1 x USB 2.0 touchscreen port
1 x USB 2.0 remote-control port
1 x maintenance Ethernet port
8 x Multiplexed GPIO digital discrete inputs
3 x digital GPIO discrete outputs

Optional inputs/outputs
3x video inputs RS-170, PAL/NTSC
Controls
 
HMI
Def Stan 23-09 compliant bezel
4 control keys and 28 function keys
Rugged AR high-resolution touchscreen
| General specifications |   |
| --- | --- |
| Power supply | MIL-STD-1275E compliant |
| Power consumption | 50 W typical, 80 W max. (without heaters) |
| Dimensions | 286 x 254 x 68 mm /11.25 x 10.0 x 2.66 inches (w x h x d) |
| Weight | 5.9 kg / 13 lbs |
Can't find what you are looking for?
For more information or alternative solutions, please click 'contact us' below.