RDU-4208 LAD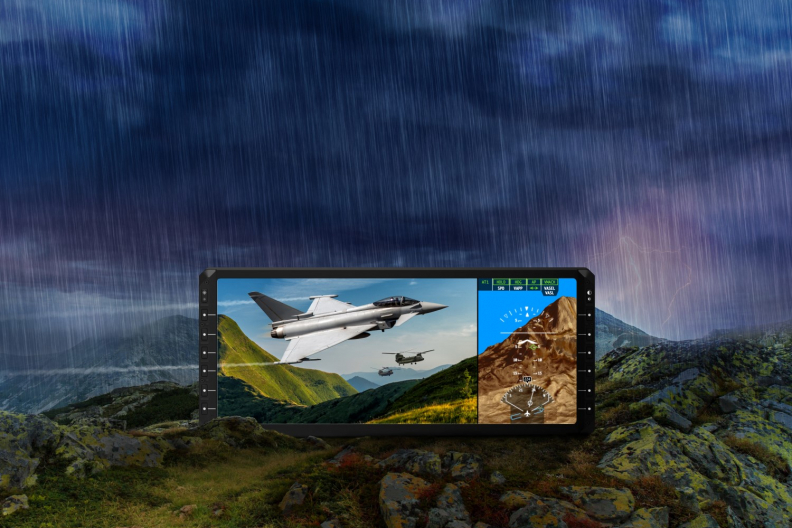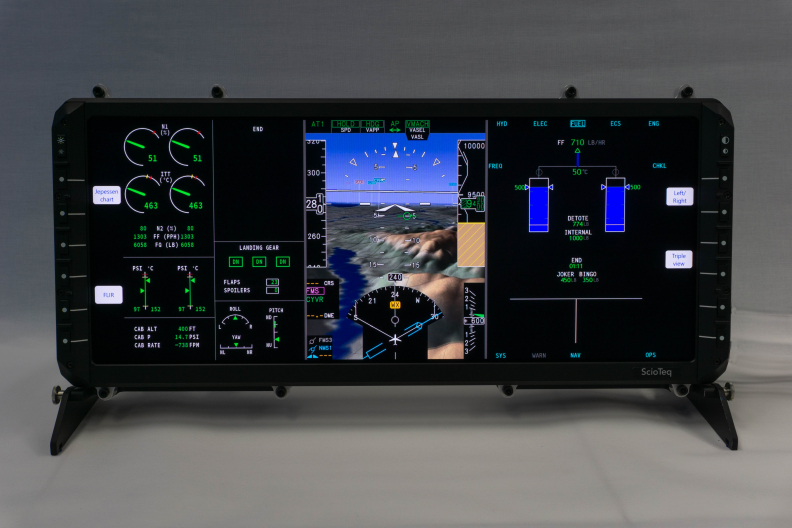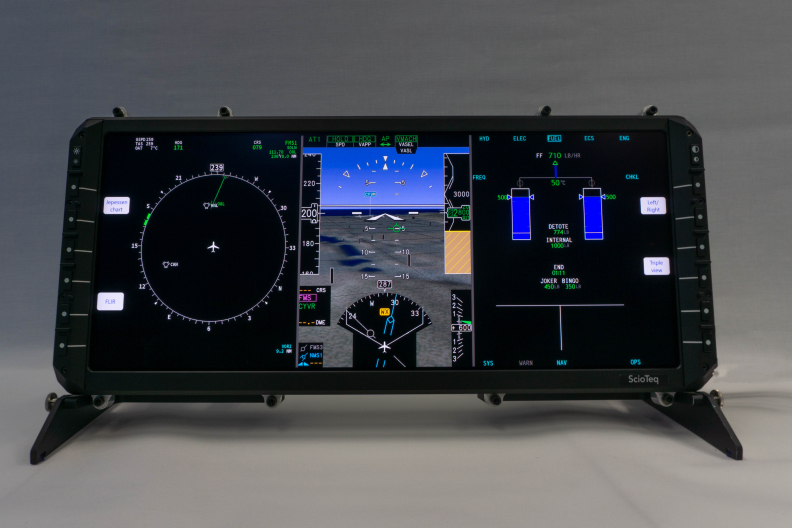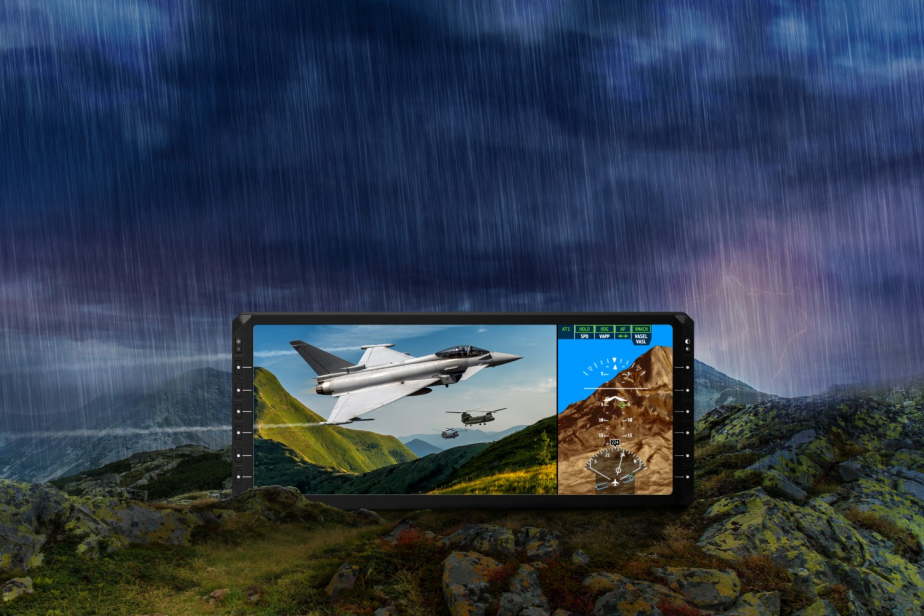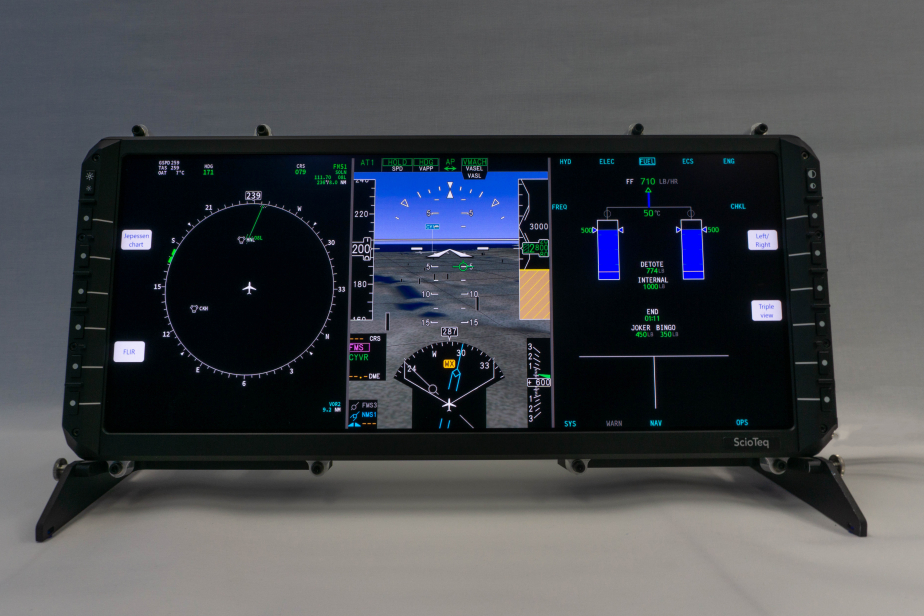 RDU-4208 LAD 20"x8" Rugged Display Unit for Harsh Environments
•    Fully redundant
•    Touch interface; multi-touch and any type of stylus
•    Superior color rendering and color mapping
•    Wide viewing angles
•    Suitable for helicopters
•    NVIS Class B compatibility
•    NVIS Class A optional
•    Multiple redundant video inputs standard
•    Brightness and white point stabilization over temperature and time
•    Fan-less architecture
Product description
Best-in-class optical performance
Because of the in-house developed backlight technology, the LAD is NVIS class B and A compliant, and doesn't compromise on the full color gamut performance in day mode. The display output stays the same over time and temperature because of the white point stabilization. The in-house optical bonding of the display makes sure that the reflections are nearly zero, resulting in a full sunlight readability at minimal power consumption.
High modularity standard
The modularity of this display is unprecedented. The keyboard is front mounted, easy for on-aircraft replacement. The multitouch touch screen is compatible with any type of stylus, even all gloves.
Minimized SWaP-C signature
Both in new cockpits as in cockpit upgrades, the RDU-4208 LAD is fit for confined spaces like in trainer and fighter cockpits, still keeping the ejection seat trajectory clear.
Qualification/certification
The RDU-4208 LAD is Full MIL-STD qualified (Environmental MIL-STD-810G and power qualification MIL-STD-704E).
Downloads
RDU-4208 LAD download
For more detailed information, please request via 'more info' above
Product specifications
Electro-optical
 
Panel type
Active matrix LCD (normally black)
Panel active area
21.5" diagonal (20" x 8")
Panel resolution
2560x1024
Color depth
True 8-bit – 16,777,216 colors and 256 grayscales
Viewing angle
• H: +/-85°
• V: +/-80°
Can be tailored to program requirements, such as the addition of specific collimation to reduce
canopy reflections, etc.
Backlight
LED backlight
Luminance
• 10fL up to 300fL (day)
• 0.01fL up to 25fL (night)
Luminance stabilized over the life time and the complete temperature range of the display
Sunlight readability
Contrast ratio >7:1 @ 10,000 fC
NVG compatibility
NVIS, type I/II, class B, per MIL-L-85762, Class A optional
Heater
Heater for display startup at extremely cold temperatures                                                   
Interfaces
 
Video inputs/outputs (1)
Main Inputs:
- 2x video input per side or full surface
- 2x video output (per side or full screen)
Default video interface: A818 or HD-SDI
DVI offered on request (limited to left/right)
| Controls |   |
| --- | --- |
| Brightness control | Bezel control, or remote |
| Bezel controls (1) | Available with custom bezels |
| Touch screen | Multi-Touch capability |
| General specifications |   |
| --- | --- |
| Power supply | 28VDC, MIL-STD-704A |
| Power consumption | 150W max @ 300fL (20C ambient) |
| Weight | 8.6 kg / 19 lbs (max) |
| Cooling | Passive cooling |
| Built-in testing | PBIT / CBIT / IBIT |
| Software | RTCA/DO-178C up to Design Assurance Level (DAL) A |
| Hardware | RTCA/DO-254 up to Design Assurance Level (DAL) A |
| Environmental conditions |   |
| --- | --- |
| Compliance | MIL-STD-461E & MIL-STD-810G |
| High temperature | +71°C operational / +85°C short-time / +95°C ground survival |
| Low temperature | -45°C operational / -55°C ground survival |
| Altitude | 50,000 ft |
| Water proofness, salt fog, sand & dust | Withstands the harshest environments - closed and fan-less unit design |
(1) Please contact ScioTeq for other possible options
Can't find what you are looking for?
For more information or alternative solutions, please click 'contact us' below.