Vista 5/6/700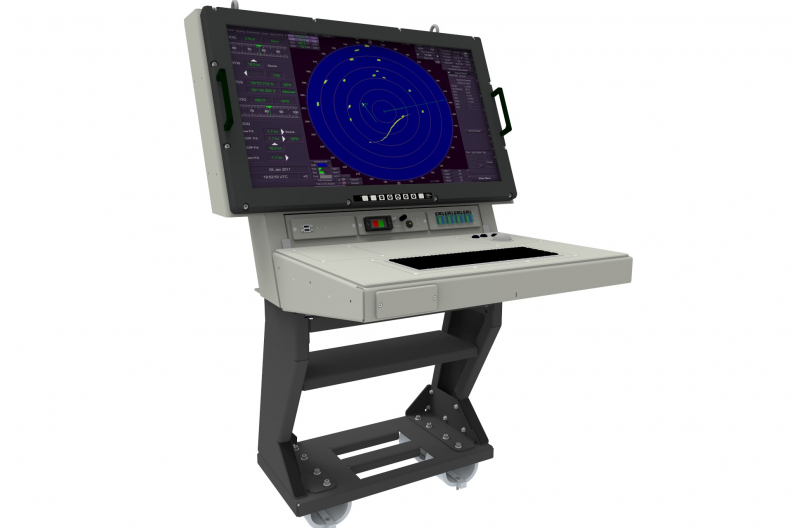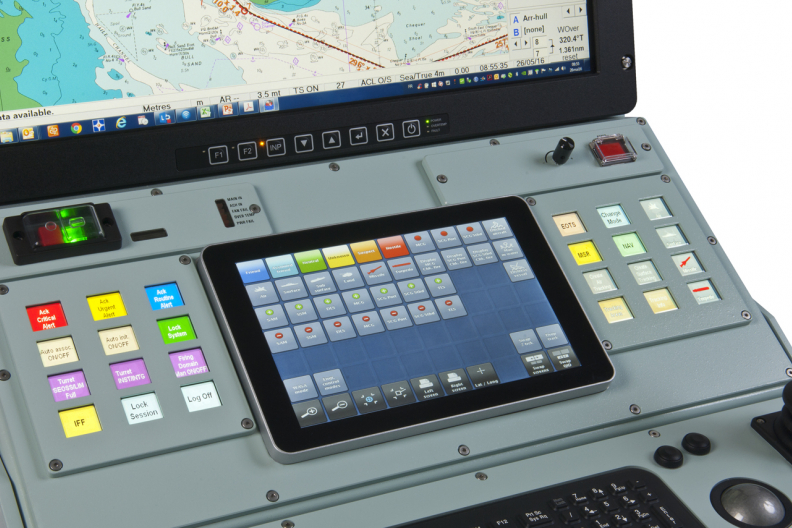 Vista 5/6/700, Shelter/Naval rugged consoles for mission-critical environments
Networked video and radar visualization solutions for lower cost of ownership and redundancy
Affordable yet powerful and modular solution for Land-based Shelter and Naval Multi-Function consoles
Slim, compact and modular design, allowing multi-display configurations (single-head, top/down,) and future display integration
Enhanced ergonomics for better user comfort
Low risk solution with already qualified product line
ScioTeq organization with extensive experience for long term support requirements
One stop shop console offering with networked visualization and recording solutions
Product description
VISTA5/6/700 is ScioTeq's latest family of consoles offering an ergonomic rugged working position for the most demanding Command and Control, fire control or situational awareness applications for on board shelter
landbase or surface ships/submarines systems ScioTeq's.
VISTA5/6/700 console is fully MIL-qualified in terms of vibration, shock and EMI/EMC, so it easily withstands the harsh environmental conditions of a typical shelter/naval environment.
Three System architectures
Depending of the distributed computing systems architecture, ScioTeq has designed a new console product family able to address different types of working positions:
For systems with both the computing and graphics processing located away from the operator:
VISTA500 console: zero-clients simply provide DVI/USB HMI for remote computing.
VISTA600 console: zero-clients simply provide network-attached HMI. In this version the console integrates the ScioTeq's RNA Video Decoder over IP allowing screens contents sharing technology with sub-frame latency.
For systems with remote data computing but graphics client processing located in the operator workstation:
VISTA700 console: Operator console provide dedicated graphics and video processing horsepower for user specific visualization operations such as windowing, rendering, and mixing of multiple data and sensor sources. The integrated computer platform is based on the sixth Generation Intel® Core™ i7 processors.
ScioTeq Display solution
Depending on your application, you can opt for one or two rugged display(s) and an additional 10.1" Rugged touch input terminal (1280x800 resolution) with Multi-touch touchscreen. The displays can be provided with the P-CAP Multi-touch touchscreen technology.
Console desktop
ScioTeq's VISTA500 consoles provide an ergonomic Human Machine Interface based on a customizable desktop including:
10.1" Rugged touch input terminal (1280x800 resolution) with Multi-touch touchscreen.
Industrial keyboard and sealed mouse (Standard desktop)
Or fully integrated Rugged backlit keyboard and ergonomic 2"-3 buttons trackball (customizable desktop)
Stereo audio speakers
Optional Joysticks, Audio/Headset devices, One or two programmable secured push button modules (SMARTKEYS).
The console is wall-mounted or a pedestal option can be provided
Downloads
Vista 5/6/700 leaflet
For more detailed information, please request via 'more info' above
Product specifications
| Vista500 |   |
| --- | --- |
| External interfaces | DVI inputs up to 1920x1200 and USB port (up to 15 meters) |
Vista600
 
Streaming video standards
IETF RFC4175 (uncompressed)
IETF RFC3984 (H.264)
Network connections
2x 10GBASE-SR or 1000BASE-T
1x10/100BASE-T for maintenance
Vista700
 
Computer performance
Intel® Core™ i7-6700 3.4GHz with 16GB system memory (up to 32GB)
SATA3 2.5" 512Go SSD (system disk)
Windows 7/10 - 64 bits and Linux CentOS - 64bits
Graphics
PCI Express 16x HD530 graphics chipset with three graphics outputs
Network connections
2x 1000BASE-T
2x RS422/232 ports
Vista 5/6/700
 
Input devices
Standard desktop: Industrial Keyboard and Mouse,
Customizable desktop: Rugged backlit keyboard and Trackball, Joystick in option
Stereo Speakers
Optional Multitouch touchscreen on the main displays, one or two Smartkey modules
Optional audio headset connector and external audio input
Displays
1x or 2x main displays + 1x Touch Input Terminal inside the desktop
(10.1'' 1280x800 with P-CAP)
Dimensions
Top/Down: (WxHxD mm): 650x940x780 (excluding shock absorbers)
Single Head: (WxHxD mm): 650x560x780 (excluding shock absorbers)
Power
100-240 VAC autorange, 50/60Hz
Power Consumption: 300W typical
Weight
Top Down version: 65Kg
Single Head version: 50 Kg
System availability
MTBF: Vista700: GF H24 typ. 6500h @ 25°C (depending of the final configuration)
MTBF: Vista500: GF H24 typ. 11000h @ 25°C (depending of the final configuration)
Altitude/Low pressure
operating
MIL-STD-810G Meth 500.4
Operating Up to 15000 ft (570 mBar)
Shocks Operating
MIL-STD-810G
Soft mount: 50 g – 6 ms half sine and 40 g-11ms half sine
Hard-mount: 20g – 11 ms half sine
Vibrations operating
MIL-STD-167-1 Type 1
MIL-STD-810G 514.6 Cat21, 1-100Hz/0.001g²/Hz (0.3gRMS), 2h/axis
Vibrations during transportation
Non operating
MIl-STD-810 G, Method 514.6, procedure ı & ıı, category 4:
truck highways: 1.0g RMS 10-500Hz vertical, 0.2g RMS 10-500Hz transversal, 0.7g RMS 10-500Hz
longitudinal, 1h/axe for 1609km
EMI/EMC
CE directive CEM
2004/108/CE Electromagnetic Compatibility (dec 2004)
Category: ITE (Information Technology Equipment)
MIL-STD-461F Navy ships (surface ships)
Options
 

For custom options, please contact ScioTeq
Can't find what you are looking for?
For more information or alternative solutions, please click 'contact us' below.