Vista 5/700 Compact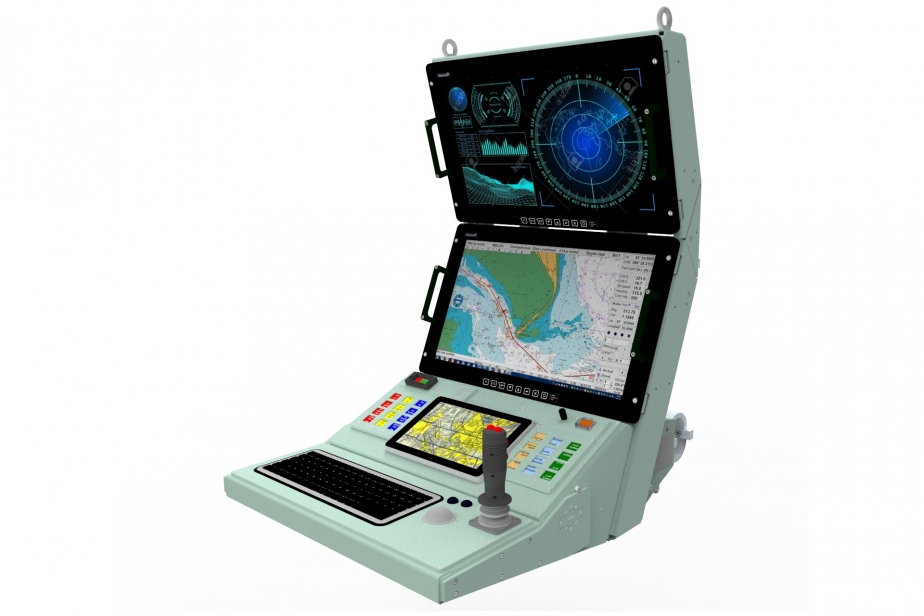 Vista 5/700 Compact, Shelter/Naval rugged consoles for mission-critical environments
Slim, compact and modular design, allowing multi display configurations (single-head, top/down,) and future display integration
Affordable yet powerful and modular solution for Land-based Shelter and Naval Multi-Function consoles
Enhanced ergonomics for better user comfort
Low risk solution with already qualified product line
ScioTeq organization with extensive experience for long term support requirements
One stop shop console offering with networked
visualization and recording solutions
Product description
ScioTeq Display solution
Depending on your application, you can opt for one or two rugged display(s) and an additional 10.1" Rugged Multi-touch input terminal (1280x800 resolution). The main displays can be provided with the P-CAP Multi-touch touchscreen technology.
Ergonomic Console desktop
ScioTeq's Vista 700 Compact consoles provide an ergonomic Human Machine Interface based on a customizable desktop including :
Fixed part:
10.1" Rugged touch input terminal (1280x800 resolution) equipped with Multi-touch touchscreen and ATOM processor unit.
Stereo audio speakers/amplifier linked to main computer audio function
Optional secured OLED pushbutton modules (SMARTKEYS) and Audio/Headset devices
Foldable part:
Rugged backlit keyboard and ergonomic 2"-3 buttons trackball
Optional Joystick
Two System architectures
Depending of the distributed computing systems architecture, the Vista Compact console is delivered in two versions:
VISTA500 Compact console: Zero-clients simply provide DP/USB HMI for remote computing (no computer inside).
VISTA700 Compact console: Operator console provide dedicated graphics and video processing horsepower for user specific visualization operations such as windowing, rendering, and mixing of multiple data and sensor sources. The integrated computer platform is based on the sixth Generation Intel® Core™ i7 processors with DDR4 memory technology.
The console is wall-mounted or a pedestal option canbe provided
Downloads
Vista 5/700 compact leaflet
For more detailed information, please request via 'more info' above
Product specifications
Vista 500 Compact
 
External interfaces
Up to 2x Display Port (DP) inputs,
USB/Ethernet ports for input devices,
1x TID Ethernet Port
1x Power Input
Vista 700 Compact
 
Computer performance
Quad Core Intel® Core™ i7-6700 3.4 GHz with 16GB system memory (up to 32GB)
SATA3 2.5" 512Go SSD (system disk)
Windows 7/10 - 64 bits and Linux CentOS - 64bits
Graphics
Intel® HD Graphics 530 with up to three graphics outputs
Rear connections
2x 1Gb Ethernet for main computer
and 2x 1Gb Ethernet if Touch Input Terminal option
2x RS422/232 ports
1x Power Input
Vista 500-700 Compact
 
Input devices
Foldable desktop: Rugged backlit keyboard and Trackball, Joystick in option
Stereo Speakers
Optional multitouch touchscreen on the main displays, one or two Smartkey modules
Optional audio headset connector and external audio input
Displays
1x or 2x main displays + 1x Touch Input Terminal inside the desktop
(10.1'' 1280x800 with P-CAP)
Dimensions
Top/Down: (WxHxD mm): 600x930x740 (excluding shock absorbers)
Single Head: (WxHxD mm): 600x570x740 (excluding shock absorbers)
Power
100-240 VAC autorange, 50/60Hz
Power Consumption: 300W typical
Weight
Top Down version: 65Kg
Single Head version: 50 Kg
System availability
MTBF: Vista700: GF H24 typ. 6500h @ 25°C (depending of the final configuration)
MTBF: Vista500: GF H24 typ. 11000h @ 25°C (depending of the final configuration)
Altitude/Low pressure
operating
MIL-STD-810G Meth 500.4
Operating Up to 15000 ft (570 mBar)
Shocks Operating
MIL-STD-810G
Soft mount: 50 g – 6 ms half or 40 g - 11ms half sine
Hard-mount: 20 g – 12.5 ms half sine
Vibrations operating
MIL-STD-167-1 Type 1
MIL-STD-810G 514.6 Cat21, 1-100Hz/0.001g²/Hz (0.3gRMS), 2h/axis
Vibrations during transportation
Non operating
MIL-STD-810 G, Method 514.6, procedure ı & ıı, category 4:
truck highways: 1.0g RMS 10-500Hz vertical, 0.2g RMS 10-500Hz transversal, 0.7g RMS 10-500Hz
longitudinal, 1h/axe for 1609km
EMI/EMC
CE directive CEM
2004/108/EEC refers to EMI directive.
2006/95/EEC refers to Low Voltage Safety directive
MIL-STD-461G Navy ships (surface ships & submarines)
Temperature
JSS55555-2000,
High temperature, Test# 17, Procedure 6, Test condition M
+55°C Operating
+85°C 16h Storage, no operating
Low temperature,test# 20, Procedure 4, test condition J & K
-20°C operating (depending of computer configuration)
-30°C 16h storage, no operating
Humidity
MIL-STD-810G
95% @ 30°C non condensing
according MIL-STD-810G Meth 507.5 fig 507.5-7
Drip Proof
MIL-STD-810G: Meth 506.5 Proc.III
Tilting up to 45°
Fungus/Salt fog
MIL-STD-810G
Meth 508.6: no materials that would promote fungus growth are used.
Meth 509.5: test on separate parts
Acoustic noise
MIL-STD-740-1
<50dbA @ 1 m
Options
 

For custom options, please contact ScioTeq
Can't find what you are looking for?
For more information or alternative solutions, please click 'contact us' below.