MFD-5068 (new)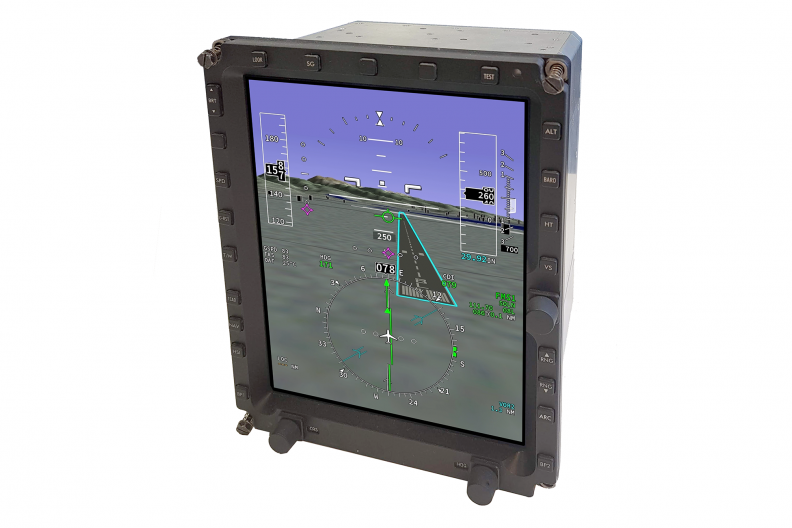 MFD-5068  Smart Multi Function Display
Powerful processing and graphics module with substantial growth capability
ScioTeq's MOSArt® middleware platform for hosting multiple software applications at different DAL levels (incl. DAL A)
Wide viewing angles – ideal for cross-cockpit viewability
Brightness up to 300fL, making it suitable for installation in helicopters and open cockpit aircraft
NVIS Class B compliant - NVIS A as an option
Guaranteed brightness and color range over the operating temperature of the display and over its lifetime
Large array of Input and Output interfaces
Product description
The MFD-5068 is ScioTeq's new Smart Multi-Function Display in development, equipped with the latest multi-core processing solution. Compatible with the Open Software framework MOSArt®, the display is offered as an Open Platform, perfectly suited for hosting today's demanding applications. 
The proprietary AMLCD and LED backlight technology delivers a visual performance second to none: true 8-bit color depth with high contrast ratio and superior color stability, cross-cockpit viewing angles and superior brightness in Day, Night and NVIS modes. The optical quality is guaranteed over the complete operating temperature range and lifetime of the display, thanks to ScioTeq's proprietary control mechanisms. As an option, the light can be collimated to reduce reflections on the windshield or canopy.
The ScioTeq MOSArt® section allows customers to simultaneously host combinations of software applications that can be customer proprietary, ScioTeq proprietary and from 3rd parties. Importantly, these hosted applications can be individually designed to varying Design Assurance Levels (DAL), up to and including DAL A, reducing development and integration costs.
The MFD-5068 provides the lowest SWaP (Size-Weight and Power) signature in the market.
Downloads
MFD-5068 leaflet
For more detailed information, please request via 'more info' above
Product specifications
| Processing |   |
| --- | --- |
| CPU & GPU | NXP i.MX8 QM |
| RTOS | Wind River Helix Virtualization Platform (HVP) |
| ScioTeq MOSArt® open platform | Allows development and hosting of customer supplied, 3rd party or ScioTeq applications. Can host multiple applications at different DAL levels simultaneously. |
Electro-optical

 

Panel type

Active matrix LCD (normally black)

Panel active area

10.4" diagonal (6" x 8")

Panel resolution

1024 x 768

Viewing angle

Can be tailored to program requirements, such as the addition of specific collimation to reduce canopy reflections, etc.

Backlight

LED backlight

Luminance

0.1 up to 300fL (non-NVIS mode)

0.03 up to 2fL (NVIS mode)

Luminance and color stabilized over the life time and the complete temperature range of the display

Sunlight readability

Contrast ratio >14:1 @ 10,000 fC

NVG compatibility

MIL-STD-3009 Type I/II, NVIS Class B. Class A as an option

Heater

Heater for display startup at extremely cold temperatures
Interfaces Preliminary (1)

 

Video inputs / Outputs (1)

Inputs: 1xHD-SDI / Outputs: 1xHD-SDI (independent) + 1xHD-SDI (screen copy)

Control and Data

Discrete I/O: 28 In (incl RT address setting) / 18 Out /14 In-Out
Serial: 4 x RS-422 / 1 x RS-485 (supporting >3Mbps)
ARINC-429: 24 In / 8 Out (HS/LS configurable)
MIL-STD-1553B (bus A/B and C/D with RT/BC/BM functionality)
Ethernet 2 x 10/100 Base-T

Brightness control

ALS sensors, bezel control, or remote

Bezel controls (1)

Available with custom bezels
| General specifications |   |
| --- | --- |
| Power supply | MIL-STD-704F |
| Power consumption (preliminary) | <60W @ 200fL (20°C ambient) |
| Weight (preliminary) | <5kg (11lbs) |
| Dimensions (WxHxD) (preliminary) | 202.1mm (Width) x 259.2mm (Height) x 176.5 mm (Depth incl. connector flange) |
| Certification | DO-178C and DO-254 DAL A certification package available |
| Software | developed to RTCA/DO-178B DAL A, capable of hosting applications up to DAL A |
| Hardware | developed to RTCA/DO-254 DAL A, capable of hosting applications up to DAL A |
| Environmental conditions |   |
| --- | --- |
| Qualification package | DO-160G /MIL-STD-810G / MIL-STD-704F / MIL-STD-461G combination |
| Temperature | +71°C / -45°C Operational |
| Altitude | 55,000 ft |
(1) Please contact ScioTeq for other possible options
Can't find what you are looking for?
For more information or alternative solutions, please click 'contact us' below.